Everything Royal
ALL SALES FINAL
Royal Invitations, Ceremonial Programs, Orders of Service, Menus, Etc.
Letters from Ladies-In-Waiting-Secretaries-etc on behalf of member of the Royal Family
Names are crossed out (only on the website) to protect the privacy of sellers.
Cards will be in their original condition when purchased.
---
RARE "His Majesty King Edward VIII"
Item 3094 A rare 77 year old letter from the private secretary to King Edward VIII regarding a message from a boy scout troop. Few items remain from the short reign of King Edward VIII who gave up the throne to marry divorcee Wallis Simpson. This was sent 5 months before the abdication in 1936. Written on Buckingham Palace stationery with original envelope. Sale $1,225.00 plus postage
The Private Secretary is commanded by The King to say how much His Majesty
appreciates the kind message from the Boy Scout of Troop #326. 31st July 1936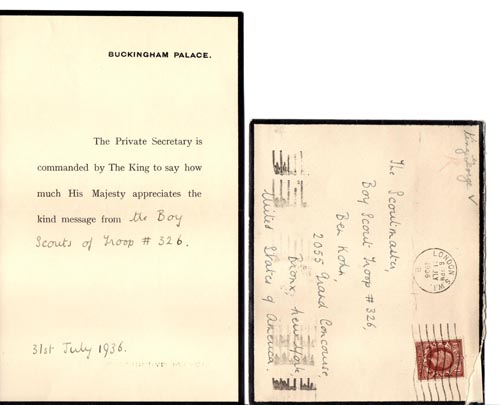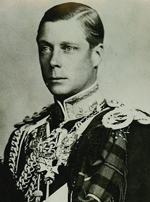 ---
FRAMED INVITATION: WEDDING PRESENTS OF HRH THE DUKE OF YORK AND AND LADY ELIZABETH BOWES-LYON
Item 3095 - A 90 year old nicely framed (6" X 13") invitation to view the wedding gifts dated April 23, 1923. $2,000.00 plus postage
It reads Marriage of HRH The Duke of York with Lady Elizabeth Bowes-Lyon, To view some of the wedding presents, Buckingham Palace, Tuesday 24, April, 1923, 3 to 5:30 p.m.. Admit Mrs. Clarkson, Enter by Entree Entrance, Buckingham Gate, Cromer, Lord Chamberlain, This card to be shown at the entrance.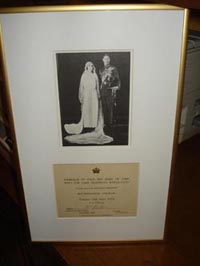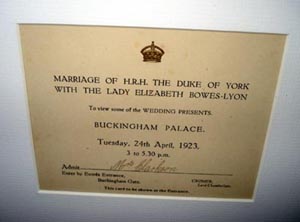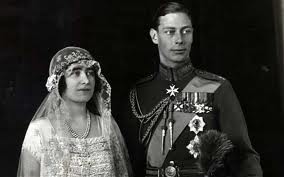 ---
FRAMED INVITATION TO THE CORONATION OF HER MAJESTY QUEEN ELIZABETH II
SOLD - This is truly a piece of history. It is ticket number 008. 60 years old. It states: Coronation of Her Majesty Queen Elizabeth II, Westminster Abbey, Tuesday, 2nd June, 1953. Admit (no name) to the royal Box North, , Norfolk, Earl Marshal. It is framed under-non-glare glass. (9" X 11") The reverse shows the seating are for the Coronation. $995.00 SOLD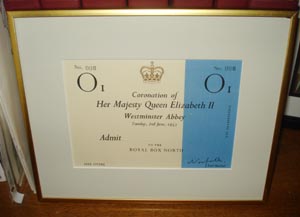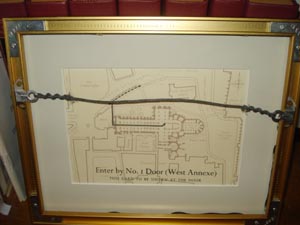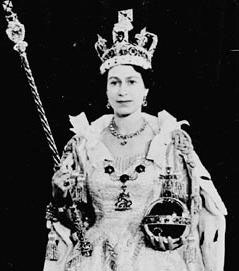 ---
Prototype 1981 Wedding Invitation
SOLD 3097 -Here is the first sample of the invitation to the wedding of Charles and Diana in 1981. This sample came directly from the London printers who did the original wedding invitations. This sample was rejected for the one listed below. This invitation reads: ER, The Lord Chamberlain is commanded by the Queen and the Duke of Edinburgh to notify --------- of the marriage of The Prince of Wales to Lady Diana Spencer in St. Paul's Cathedral on Wednesday 29th July 1981 at 11:00 a.m. An answer is requested to the Lord chamberlain St. James Palace, L. W.I. As this invitation will not admit. Dress: Morning suit (or lounge suit) Serving Officers: Ceremonial day dress Ladies: Day dress with hat. This is the only sample invitation I have seen in the 27 years since the wedding took place. Nicely matted and framed. 9" X 11" $2,295.00 SOLD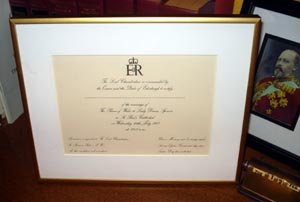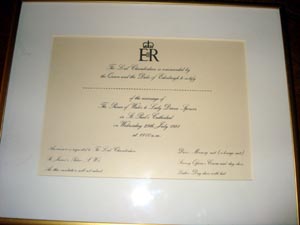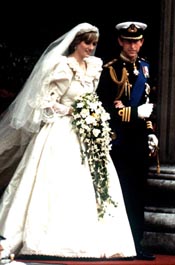 ---
FRAMED 13" X 17" MENU, PROGRAM AND BRITANNIA PHOTO
SOLD The 1976 Summer Olympics, officially known as the Games of the XXI Olympiad, were held in 1976 in Montreal, Quebec. The Games were opened by Queen Elizabeth II (as head of state of Canada) and the several members of the Canadian Royal Family attended the opening ceremonies. Princess Anne of the United Kingdom was the only female competitor not to have to submit to a sex test. She was a member of her country's equestrian team. Queen Elizabeth II was in Montreal from July 13th to July 25th. She was joined by the Prince of Wales, Prince's Andrew and Edward. The following is a menu for a dinner hosted for Her Majesty. It includes the menu and the evening's entertainment. The entertainment and menu cards are framed with a lovely print of Britannia. The Britannia was launched 16th April 1953 by HM Queen Elizabeth II. The Royal Yacht Britannia has helped to make The Queen the most traveled monarch the world has ever known. Not only has The Queen and her family traveled the world on Britannia, but the world - its statesmen and leaders - has visited them on board. From Sydney to Samoa, The Queen's guests have been entertained just as they would be at a royal palace on British soil. $1,595.00 plus postage Order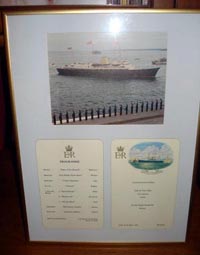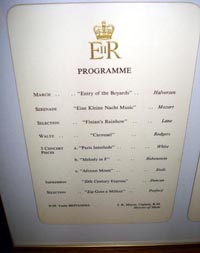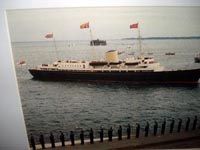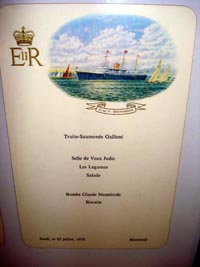 ---
WEDDING INVITATION 1981-HRH THE PRINCE OF WALES WEDS LADY DIANA SPENCER
SOLD 3099 -Here is a 32 year old 1981 invitation to the GREATEST wedding of all time between HRH The Prince of Wales to The Lady Diana Spencer. This invitation was sent to Diana's two cousin's . The invitation although soiled can easily be cleaned with a children's white eraser. I purchased this invitation directly from Diana's cousin's husband, Peter Tufnell when he visited me in Los Angeles at the end of 1997. He was selling numerous items given to he and his wife (Joanna) by Charles and Diana. I bought a large quantity including this invitation. Lady Ruth Fermoy, Diana's grandmother had three children, Mary, Frances (Diana's mother) and Edmund. Mary had four children, Alexandra, Antonia, Joanna and Edward. This invitation was send to Joanna and Alexandra, Diana's first cousins. $3,000.00 plus postage Order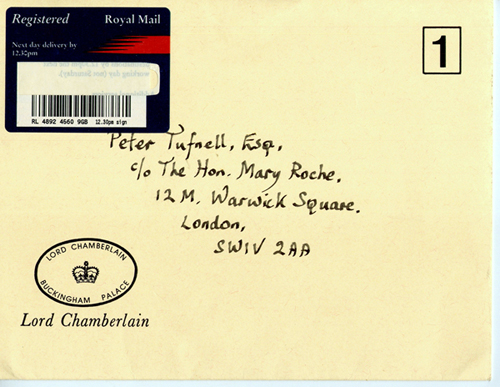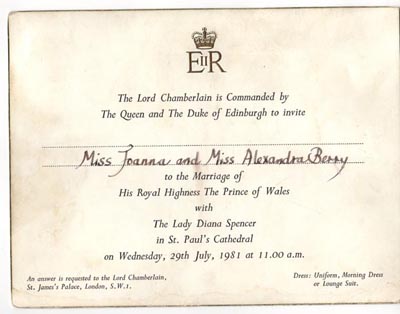 ---
1953 Coronation of Her Majesty Queen Elizabeth II
Item 3100 64 year old thank you note from secretary to Her Majesty Queen Elizabeth II.
Written on Buckingham Palace stationery with original envelope. $895.00 plus postage
The Private Secretary is commanded to convey The Queen's sincere thanks to Mr. & Mrs. R. Lowe
for their kind message on the occasion of her Majesty's Coronation.
25th June 1953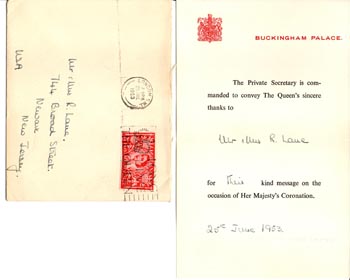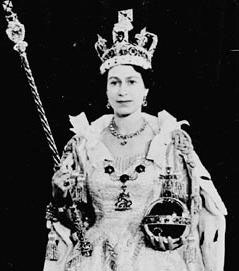 ---
QUEEN MOTHER 100TH BIRTHDAY INVITATION
Item 3101. A 17 year old invitation to attend the 100th birthday of Her Majesty Queen Elizabeth , The Queen Mother, July 2000. $445.00 plus postage SALE $925.00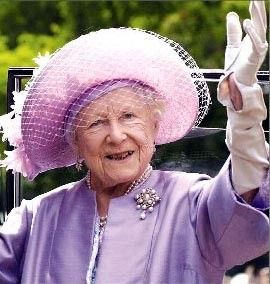 ---
Death of The duchess of Windsor
Item 3102 A 60 year old note from the secretary to Her Majesty upon the death of Wallis Simpson, the Duchess of Windsor.
Written on Buckingham Palace stationery with original envelope. $910.00 plus postage
15th May 1986
Dear Mr.Owen,
The Queen has commanded me to thank you for your kind message of sympathy on the death of the Duchess of Windsor
Yours sincerely,
Robert Fellows
(Robert Fellows is now Sir Robert Fellows married to Princess Diana's sister, Lady Jane Spencer)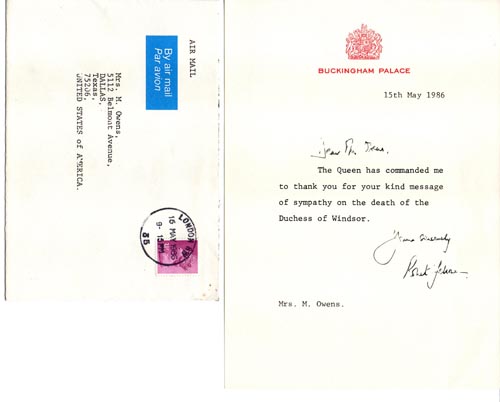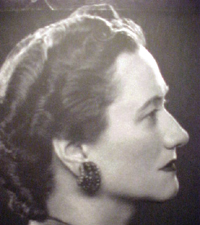 ---
HRH Prince Philip, Duke of Edinburgh
SOLD A 54 year old 8 page souvenir booklet of the visit of HRH Prince Philip to The Bahamas in 1959. A detailed day by day, hour by hour schedule of his visit. $549.00 plus postage Order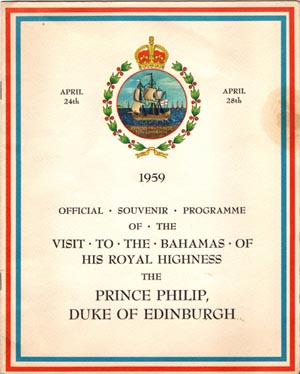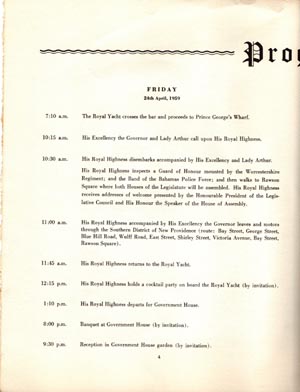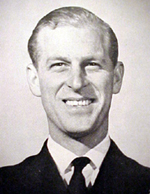 ---
1979 GARDEN PARTY INVITATION, GREAT WINDSOR PARK-PRINCESS MARGARET
Item 3104. A 34 year old invitation to a garden party at The Chaplain's Lodge, Great Windsor Park July 1979. HRH The Princess Margaret will be in attendance.Comes with original envelope, instructions and a map. $450.00 plus postage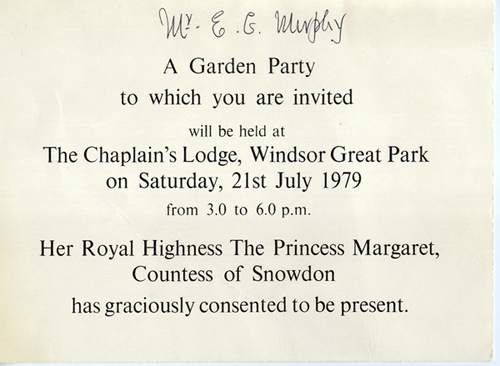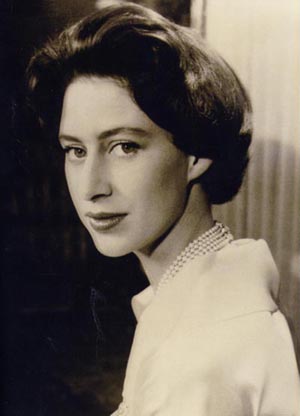 ---
HRH Princess Margaret
Item 3105. A 64 year old letter from the private secretary to HRH Princess Margaret. Princess Margaret was 19 years old at the time.
Written on Buckingham Palace stationery with original envelope. $2500.00 plus postage
May 23, 1949
Dear Sir,
AS Princess Margaret is in Italy, I as writing to acknowledge the arrival of the present you so kindly send to Her Royal Highness.
I will show Princess Margaret your scarf upon her return.
Your truly, Jennifer Bevan
Lady-in-waiting
Captain Gordon L. Canada C.M.P.
U.S.A. Sector Provost Marshal
Mountain Lakes,
New Jersey, U.S.A.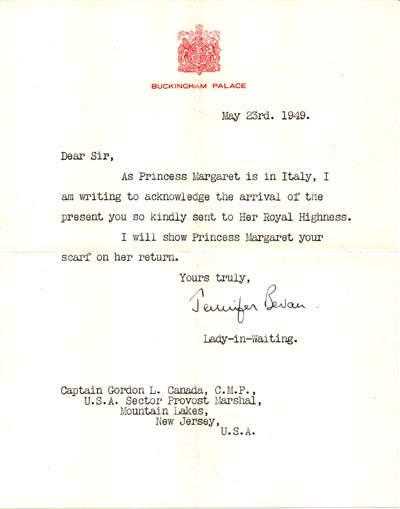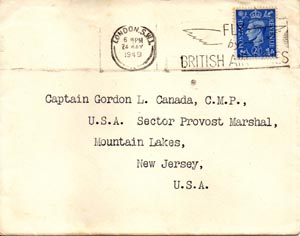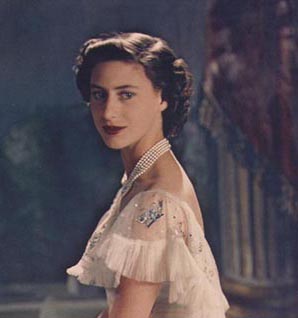 ---
Invitations-Programs-Etc Page 2
Everything Royal Home Page
Order Form
All major credit cards accepted.
Payment plans are available