Everything Royal
Diana, Princess of Wales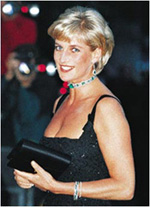 died August 31, 1997
by Alicia Carroll
Diana was not only the most famous lady of this or any other century, she was also a great humanitarian. Diana did not strive for greatness or fame. Her fame came because she married a Prince. Her greatness came because everyone the world over recognized she was an extraordinary person. A person who cared so much for so many. Her commitment and dedication to her charities and causes is what she is remembered for. Her face was known the world over for her caring ways. So much has been written and reported about Princess Diana's life, we are in danger of forgetting what she really stood for and cared about. Diana was not a " in name only" patron of charities. She cared deeply especially about those involving children. The list of charities who owe their existence to the support of the late Princess is endless. There is a lesson to be learned by the legacy Diana has left. She is remembered for her charitable acts and caring ways, not for having married a Prince.
BUT, where is the proper fitting tribute? A statue? In a city virtually covered with statues and monuments on every corner, there is nothing dedicated to the late Princess Diana.
The following articles were taken from UK newspapers
Sunday June 9, 03:41 PM

Inquest Into Diana's Death
An inquest into the death of Princess Diana is finally set to go ahead, according to the Mail on Sunday. The inquest, which will take place before the end of the year, could see Prince Charles and immediate members of the Princess's family called to give evidence. The move follows the retirement of the Royal Coroner. Dr John Burton has opposed the need for a public hearing into the deaths of Diana, Dodi Fayed and their driver Henri Paul.
It is feared the case could be hijacked by those, including Dodi's father Mohamed Al Fayed, the Harrods boss, who have put forward murder conspiracy theories surrounding Diana's death in 1997.
The law requires an inquest to be held into the death of anyone whose body is returned to Britain after their death overseas. The Government is believed to have been pushing for the case to be dealt with and the Palace is understood to be resigned to a public hearing. In April, 2002, France's highest court put a final end to its investigation into Diana's death. The Court of Cassation upheld the dismissal by the investigator of manslaughter charges against nine photographers and a press motorcyclist who were in pursuit of the Mercedes as it entered the Alma tunnel in Paris where it crashed.
The court dismissed an appeal lodged by Al Fayed in 1999 after French Judge Herve Stephan ruled that the Princess was killed because the car's driver Henri Paul, an Al Fayed employee, was drunk and speeding. Bodyguard Trevor Rees-Jones survived the crash

Thursday April 4, 07:00 PM
French draw line under Diana death probe
PARIS (Reuters) - France has drawn a line under a probe into Princess Diana's death in a Paris car crash, with its highest court ruling that paparazzi who pursued her car could not be tried for manslaughter. The father of Diana's friend Dodi al-Fayed and family of the chauffeur also killed in the crash had demanded that nine photographers and a motorcyclist, who pursued the car, stand trial for charges including manslaughter. The photographers chased the couple's Mercedes as it left the Ritz Hotel in central Paris and took pictures at the scene of the crash, after the car careered into a concrete pillar in an underpass on August 31, 1997. However, the Cour de Cassation rejected their appeal and supported the investigators' decision in 1999 that the photographers had been too far away from the speeding car for it to be considered that they caused the crash. The initial inquiry into the Princess's death cleared all 10 suspects after evidence showed that driver Henri Paul was drunk at the time of the accident. The Cour de Cassation said the photographers' behaviour was contrary only to the "moral and ethical pursuit of their profession". The decision will be a blow to Fayed's millionaire father Mohammed, who has often blamed the death of Diana and his son on a secret service plot to prevent the couple from marrying. However, eight of the photographers who took pictures of both Diana and Dodi in the crumpled car after the crash are still being investigated for invasion of privacy following a complaint by Egyptian-born Fayed. The pictures were impounded by police soon after the crash and have never been published.
Tuesday October 24, 3:14 PM
Diana's stunning outfits go on display at Palace
The red dress worn by Diana, Princess of Wales, for her last official daytime engagement is
among a collection going on show at Kensington Palace. The Princess chose the smart red knee-length sleeveless crepe shift dress with neat gold double belt to open the Orthopedic Unit of Northwick Park Hospital in north west London
on July 21, 1997. It was originally made for a state visit to America in 1995 but the Princess only felt confident
enough to wear it two years later. "The Princess was in an upbeat mood to cheer up patients and crowds, so went back to this bright dress which had been put aside two years before," said collection curator Joanna Marschner. The clothes worn by the late Princess will be displayed from Wednesday at the Princess's former home with original sketches, patterns and embroidery specimens. Entry to the collection is £8.50 for adults and £6.10 for children. It will be open from 10am to 4.30pm daily. The collection includes 11 costumes created by Catherine Walker, who designed outfits for the world's most photographed woman for 16 years from casual day suits to sleek evening gowns for royal balls. The outfits, many on show for the first time, include a black Clerici silk low-backed evening gown, inspired by a picture frame design, which she wore it at the Palace of Versailles in December 1994. Walker wrote in her biography: "It was our first sexy dress and predictably, it received considerable coverage. Pierre Cardin commented 'This is the home of the Sun King of France: now we have the Sun Princess of Versailles'." The exhibition, until the end of March 2001, also displays a working wardrobe of outfits which the Princess wore to charity events. They include a fine wool, pink suit with mother of pearl buttons and a short hemline which she wore just before her death. Walker's designs bring up to date the Royal ceremonial dress collection at Kensington Palace which tells the story of ceremony and style culminating in a dazzling set of dresses belonging to the Queen, said a spokesman for the Historic Royal Palaces.
Tuesday October 31, 3:14 PM
Fayed's Diana appeal rejected
A French appeals court has rejected a request by millionaire businessman Mohamed al-Fayed to revive criminal charges against news photographers over the death of Diana, Princess of Wales, and Mr al-Fayed's son Dodi. A Paris judge last year accepted the investigating magistrates' recommendations to blame limousine driver Henri Paul and clear 10 paparazzi. They had been charged with contributing to the deaths of Diana, her companion Dodi al-Fayed and the driver by chasing the car and failing to help the victims. Diana died when her limousine smashed into a pillar in a central Paris underpass on 31 August 1997. Egyptian-born businessman Mohamed al-Fayed and Henri Paul's family insist that the pursuing pack of photographers forced the driver to speed through Paris and should therefore bear some of the blame.
Recommendations: The state prosecutor recommended at the closed door appeals court hearing last month that the appeal
should be rejected and that Henri Paul should bear the blame, after being found to be drunk and under the influence of anti-depressants at the time of the high-speed crash. But Tuesday's ruling by no means spells the end to marathon legal proceedings over Princess Diana's death. Mr al-Fayed may still appeal to France's supreme court to have the original ruling annulled on a technicality. He argues that the two magistrates who investigated the accident committed a procedural error by both signing their final conclusion. Normally only the chief investigator should have done so. He is also suing the French Government for what he alleges was a failure to investigate the crash properly. The Harrods boss is convinced that "evil and racist forces" working through Britain's security service killed Diana and Dodi. He also has said he will file a lawsuit against US authorities to release documents he says may prove the couple were murdered.
Tuesday August 29, 4:12 PM
Princes keep anniversary of Diana's death low-key
The third anniversary of the death of Diana, Princess of Wales, on Thursday, is expected to pass with only low-key remembrance.
Prince William, Diana's 18-year-old son, will be away from home on the latest leg of his gap year between school and university.
And Prince Harry, who is 16 in two weeks' time, will be with his father, the Prince of Wales, at Balmoral, the Queen's private estate in the Scottish Highlands. It was at Balmoral, on August 31, 1997, that the Prince of Wales told William and Harry about the Paris car crash which took their mother's life.
Charles and Harry were with the Queen, the Duke of Edinburgh and the 100-year-old Queen Mother at Crathie Church, Balmoral, last Sunday. Prayers were said although Diana was not mentioned by name, as is traditional in the Church of Scotland.
The Princess's brother, Earl Spencer, is expected to spend the anniversary quietly at Althorp, the Spencer family's ancestral home where Diana was laid to rest on an island in a lake. The Northamptonshire estate, which has been open to the public during the summer, will close tomorrow until next year.
At Buckingham Palace, the state apartments will be open to the public as usual during the annual summer opening. Elsewhere in London, people are expected to lay flowers at the gates of Kensington Palace, Diana's former home.
In Paris, more floral tributes are expected to be left at the unofficial shrine above the Pont d'Alma tunnel where the fatal crash happened.
The Princess will also be remembered in prayers at Westminster Abbey where her funeral service took place.

People pay their respects at the memorial to Diana, Princess of Wales, at Althorp House in Northamptonshire.

Photos and floral tributes to the late Princess Diana, on left on the gate of her former London home, Kensington Palace.
Wednesday August 30, 6:05 PM
Three years after the crash that killed Princess Diana, right, the father of herboyfriend, Dodi Fayed, center, remains convinced that it was no accident. Lawyers for Mohamed Al Fayed,left, announced Wednesday, Aug. 30, 2000, a lawsuit aimed at forcing the U.S. government to release documents he says it has. Al Fayed says the documents may contain information on the true cause of the deaths of his son, Diana and their driver.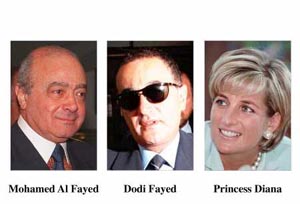 Thursday August 31, 3:50 PM
Diana mourners lay flowers at palace gates
Admirers of Diana, Princess of Wales are traveling from all over the country to pay their respects at Kensington Palace on the third anniversary of her death.
Mourners hoping to keep her memory alive have placed flowers and candles at the gates to the Princess's former London home.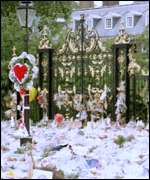 (The gates at Kensington Palace three years ago.)
"Tony Blair promised a memorial fountain. This still hasn't materialized although they have memorials in Berlin, the US and Paris which is ridiculous when she was our princess."
Thursday August 31, 1:41 PM
A man outside the gates at London's Kensington Palace the former home of Diana, Princess of Wales, paints his tribute as crowds gather on the third anniversary of her death.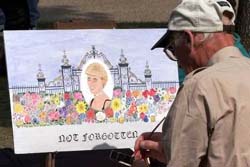 Thursday August 31, 12:42 PM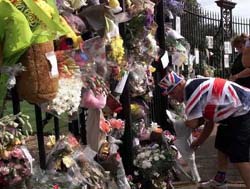 A man dressed in the Union Flag t-shirt lays a bouquet as crowds gather at London's Kensington Palace, the former home of Britain's Diana, Princess of Wales.
Wednesday August 30, 6:00 PM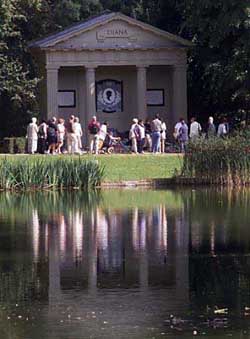 People pay respects at the memorial to Diana, Princess of Wales, at Althorp House in Northamptonshire, August 30, 2000
Wednesday August 30, 5:14 PM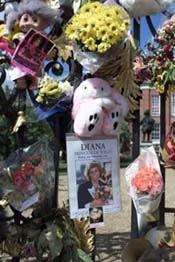 Photos and floral tributes to the Britain's late Princess Diana, on left on the gate of her former London home,
Kensington Palace, Wednesday, August 30, 2000.
Thursday August 31, 3:48 PM
Hundreds of bouquets, soft toys and photographs adorned Kensington Palace today as fans of Princess Diana struggled to keep her memory alive on the third anniversary of her death in a Paris car crash.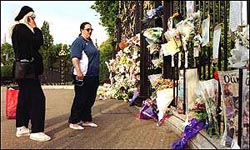 Over the past few days a stream of visitors have been laying flowers and cards for the "Princess of Hearts", police said.
Offerings included soft toys donated by Marsden Hospital "from children she had helped bring back to life" and a bunch of roses bearing the simple message: "Unforgettable".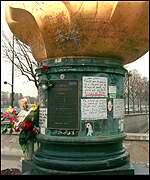 Above is the unofficial shrine to Princess Diana, "The Flame Of Liberty" in Paris
Despite a stream of fans and tourists, the tide of national grief has retreated from the outpouring of sorrow which swept the country after the "People's Princess" died at the age of 36.
Comment on Diana was buried deep inside the pages of the tabloid press, in stark contrast to the newspaper banner headlines after her death.
But faithful fans have continued to flock to Althorp House, Diana's childhood home and final resting place, which houses her toys, school reports and the fairy tale wedding dress from her failed marriage to Prince Charles.
Visitors to the Spencer family estate in central England were estimated at more than 120,000 for the eight-week summer season, against 145,000 last year.
"There's still a great affection for Diana. People from all over the world want to come and pay their last respects," a spokeswoman for Althorp estate said.
For their part, the royal family were "spending a private day remembering and praying," a Buckingham Palace spokesman said.
Thursday, 31 August, 2000, 16:53 GMT 17:53 UK
Quiet remembrance for Diana
Mourners place tributes at her Kensington Palace home Hundreds of mourners visited Kensington Palace, laden with flowers, soft toys and photographs, to mark the third anniversary of the death of Diana, Princess of Wales.
In Paris, bouquets of fresh flowers, hand-written notes, poems and images of Diana were laid at an unofficial memorial near the scene of the crash.
But Thursday's scenes were a far cry from those of August 1997 which saw hundreds of thousands of people flock to Kensington Palace and Althorp House, where Diana grew up, to pay their respects.
Over the past eight weeks the Althorp estate, which houses a museum dedicated to the princess, has attracted 120,000 visitors.
The estate (Althorp), where Diana's body lies in grave on an island in the middle of a lake, closed on Wednesday until next year.
The Royal Family and the Spencer family marked the anniversary in private.
Prince William, Diana's 18-year-old son, is away from home on the latest leg of his gap year between school and St Andrew's University in Scotland.
His younger brother Harry, who is 16 in two weeks' time, was with his father, Prince Charles, at Balmoral, the Queen's private estate in the Scottish Highlands throughout the day on Thursday.
The 36-year old princess was killed in a car crash in Paris on 31 August 1997 with her companion Dodi Fayed and driver Henri Paul.
A fourth person in the car, bodyguard Trevor Rees Jones suffered serious injury.
Prayers were said at Westminster Abbey where the princess's funeral was held a week after her death, and mourners also paid tribute at the London department store, Harrods, which is owned by Dodi Fayed's father, Mohamad al Fayed.
Tuesday, 18 July, 2000, 07:52 GMT 08:52 UK
Funds for Diana fountain Memorial has backing of the public and the Royal Family Funding for a £3m fountain in honor of Diana Princess of Wales, is expected to be announced by Chancellor Gordon Brown on Tuesday.
The memorial is to be erected in one of London's Royal Parks to commemorate the life of the Princess, who died in a car crash in Paris nearly three years ago.
The proposal for a fountain was officially announced last September and is preferred to a statue or any other form of memorial. Culture secretary Chris Smith is expected to launch a national search for the best design.
The cost is likely to be partly offset by proceeds from the sale of official Diana commemorative coins.
It is thought the fountain could be constructed within 18 months somewhere along the seven-mile Diana Memorial Walk.
The government has consulted the Royal Family about the plans and the Royal Parks over a site for the memorial.
There have been increasing calls from the public for a lasting memorial to the Princess.
More than 7,000 people paid their respects to Diana on the second anniversary of her death last August. They signed a petition calling for a permanent tribute to her.
A landscaped memorial walk and a Pete Pan-themed Diana Memorial Playground in Kensington Gardens, close to the Princess's former London home, were opened last month.
Updated 9:24 PM ET September 1, 2000
Princess Diana's mother had to keep silent on death

LONDON, Sept 2 (Reuters) - The late Princess Diana's mother on Saturday described for the first time how she was forced to keep silent about her daughter's death until heads of state had been informed. In her first public comments about the night Diana died three years ago in a Paris car crash, Frances Shand Kydd told Britain's Daily Express newspaper in an interview she knew of Diana's death an hour before the news was broadcast.
"Protocol required that heads of state had to be informed before it was made public," she said. "So I was left in an amazing, stunning situation of having an hour to wait knowing she was dead and being unable to ask a friend for help." "I was literally in front of my television saying "Come on, come on. Tell the world." Shand Kydd, 64, also described how she was besieged by the media -- who collectively put in more than 1,000 interview requests within three months of Diana's death.
The media have been accused of hounding Diana -- the world's most photographed woman -- to her death on August 31, 1997 after the car she was traveling in crashed in a Paris underpass while being pursued by press photographers. Shand Kydd said she did not go to Paris to bring her daughter's body home because she was not asked to.
She said in the weeks after Diana's death she spent a lot of time alone at her home on a remote Scottish island, despite her children's concern that she needed company. "I needed the space," she said.
Since Diana's death she said she has dedicated her time to preserving her daughter's memory. "My children and myself are all totally united in preserving her memory and caring for William and Harry," she said, referring to Diana's sons Prince William and Prince Harry, through her failed marriage to heir-to-the-throne Prince Charles. "I've only cried in public once since Diana died. I know it doesn't matter but I always felt if I started I might never stop," she added.
Sunday September 3, 4:50 AM
Diana's mother slams Al Fayed in attack on 'fantasy theorists'
The mother of Diana, Princess of Wales has attacked Harrods boss Mohamed Al Fayed for his conspiracy theories about her daughter's death. In an interview with the Sunday Express newspaper, Frances Shand Kydd, speaking for the first time about the Paris tunnel crash that killed her daughter, slams "fantasy theorists" who continue to claim Diana and Mr Al Fayed's son Dodi were murdered.
The paper says she has found "no shred of evidence" that there is a conspiracy against the couple- a clear attack on Mr Al Fayed.
Mrs Shand Kydd's comments come after Mr Al Fayed launched a legal battle in America last week to gain access to secret CIA documents he claims will prove Diana and Dodi did not die by accident. Mrs Shand Kydd, 63, tells the paper: "There are those who got lost in the moral maze, abandoned trust, and sold and told; those who have no story and have utterly painful theories on her death. "I have trawled the depths of my imagination alongside extensive factual knowledge and found no shred of evidence to support the stories. "People who have never met Diana were suddenly able to state authoritatively what she would or wouldn't have wanted."
She commented: "There were times when I felt as though I was having repetitive major emotional surgery without anaesthetic. "I say this not out of anger, which I have never felt, nor of pity, which I have never wanted, but so I can illustrate how great and calming was the goodness of so many other people. They took the trouble to write to me in their tens of thousands, sending comfort and caring."
January 23, 2001
Paul Burrell, the former butler and close confidant of the late Princess of Wales, was arrested on suspicion of theft last week in a lightning dawn raid on his home Scotland Yard of investigating the disappearance of Diana's personal possessions. The man whom Princess Diana had referred to "my rock" was led out to a waiting police car in tears after officers had searched his Cheste home. After being questioned by police, Paul, 42, who worked for Diana for 10 years before her death in 1997. He was released on bail while the police pursue further inquiries. He was not charged. The arrest formed part of an ongoing police investigation into the disappearance of some of Diana's possessions from her Kensington palace apartment in the aftermath of her death. The incident may come as a shock to many as the former butler is seen to be loyal to Diana's memory, saying after her death: "I'll never betray her trust." He played a key role in her funeral arrangements and true to his promise, has turned down all offers to reveal details about life with the princess.
Diana's Life In Pictures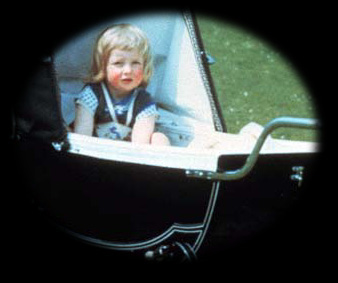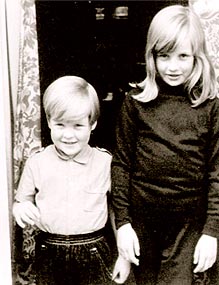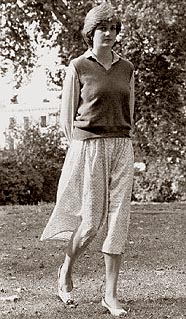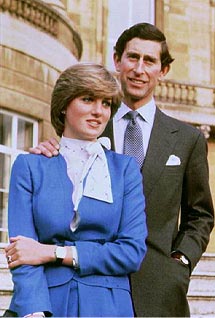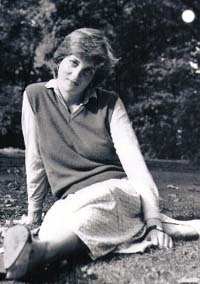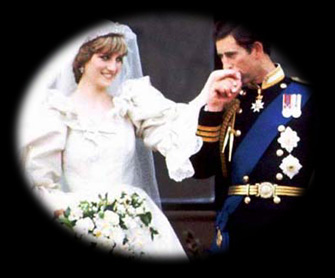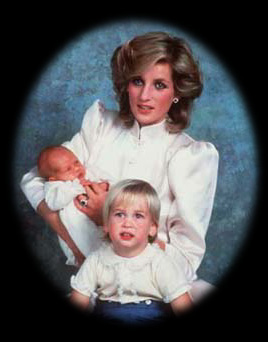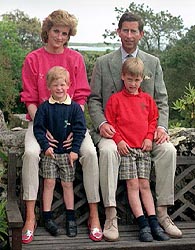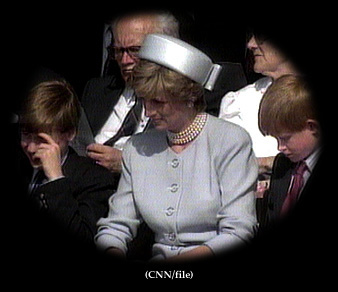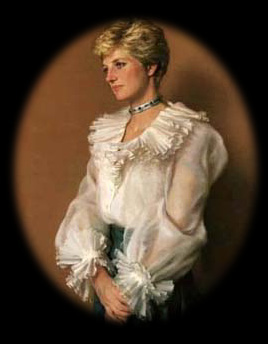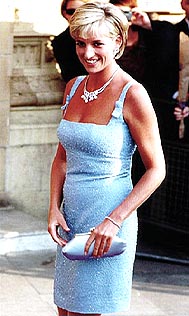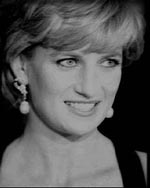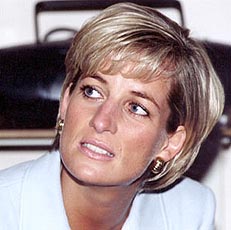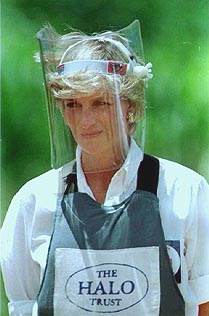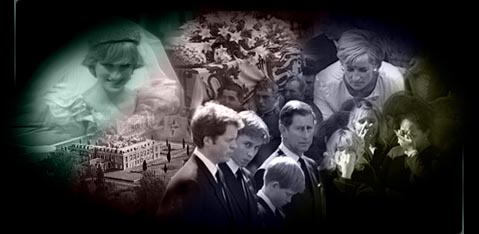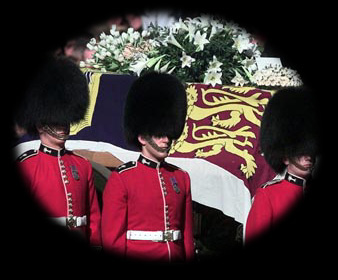 Goodbye England's Rose

May you ever grow in our hearts. You were the grace that placed itself where lives were torn apart. You called out to our country, and you whispered to those in pain. Now you belong to heaven, and the stars spell out your name. And it seems to me you lived your life like a candle in the wind; never fading with the sunset when the rain set in. And your footsteps will always fall here, along England's greenest hills; your candle's burned out long before your legend ever will.
Loveliness we've lost; these empty days without your smile. This torch we'll always carry for our nation's golden child. And even though we try, the truth brings us to tears; all our words cannot express the joy you brought us through the years. Goodbye England's rose, from a country lost without your soul, who'll miss the wings of your compassion more than you'll ever know.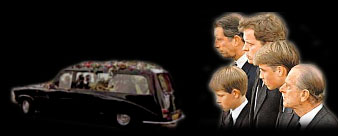 Article from London paper (January 20, 2002)
A trip to Kensington Palace is a must for anyone visiting London.
Diana's gowns go on permanent display

LONDON (Reuters) - A collection of Princess Diana's evening gowns, including those she wore to state dinners and film premieres, has gone on permanent display at Kensington Palace. The collection of 14 gowns has been shown in a number of temporary exhibitions worldwide, but will now occupy a permanent space in the Royal Ceremonial Dress Collection at the palace. "It adds to the royal dress collection and brings it up to date," a spokeswoman for the palace told Reuters on Friday. Highlights of the collection include a heavily embroidered and sequined pink silk dress with a matching bolero jacket which Diana wore during a 1992 visit to India. Also featured is the "Travolta dress", which the princess wore to a 1985 dinner at the White House where she danced with U.S. film star John Travolta. The dresses, bought at auction in 1997 by an American woman, raised more than $1 million (695 million pounds) for charity during a recent three-year world tour, the collection owner's spokeswoman said. "She feels that is very appropriate for them to be at Kensington now as that was the princess's home." The palace's royal dress collection displays elaborate ceremonial outfits dating back to the 18th century including Queen Victoria's wedding dress and coronation robes.
Earl Spencer's Eulogy to Princess Diana
Princess Diana's Will
Kensington Palace
Everything Royal Home Page