Royal Correspondence, Photographs & Gifts Page 2
To pay by PAYPAL, click Paypal button
Sign in - send payment with item number or description-Send payment to- royaltyac@aol.com
---
RARE
CHRISTIE'S PRINCESS DIANA DRESS CATALOG
Item 2999- People have paid upwards of $10,000.00 for the hardcover, blue catalog "NOT HAND SIGNED"
This blue hardcover catalog has a "PRINTED PAGE" with Princess Diana's "SIGNATURE PRE PRINTED"
This is the original 1997 Christie's catalog, not an after-market copy. I ordered this catalog at the time of the auction.
It comes with the absentee bid form and entrance pass to view the dresses.
Included is a letter with the auction results sent only to those who purchased the original catalog and had registered to bid.
Blue ribbed cloth edition.
Pre printed first pageAbsentee bid form Auction results
$1,495.00 OBO
---
Bronze Bust of HRH Prince Philip, Duke of Edinburgh
REDUCED
Item 3000- This bust was purchased at auction from the furnishings of the Dorchester Hotel in London. HRH was thought to have posed for this piece in the late 1940s or early 1950s. The hotel was purchased by the Sultan of Bruni, who remodeled, sending all the wonderful , original furnishings and art work to an action house which is how this great bust came into my possession.
It was taken to Buckingham Palace by a friend. The Queen exclaimed it was a great likeness. I personally carried this piece from the private entrance of Buckingham Palace. HRH Prince Philip couldn't remember posing for this piece.
Buckingham Palace forwarded a list of sculptors, who, over the years, Prince Philip sat (posed) for. Being a royal means having so many paintings, photos and sculptors done. Many pieces are commissioned by City Halls, heads of Governments, etc. Many pieces are finished without the royal family member ever seeing the finished product. Paid $55,000.00 in 1997
$19,995.00 plus postage
1/2 off $9,995.00
For more photos & further information, please contact Everything Royal. All offers considered- 323-655-1458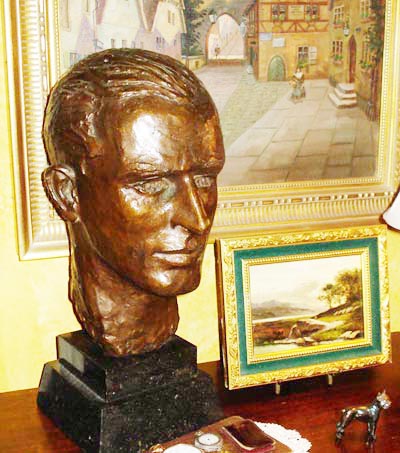 ---
HANDWRITTEN LETTER FROM 21 YEAR OLD PRINCE CHARLES
Item 3001- Here is a rare 47 year old letter written by HRH Prince Charles (pre Diana) the future King of England thanking the household staff for his 21st birthday gift.
It reads: It was a particular pleasure to receive the splendid 21st birthday present, to which you have all contributed so generously. I was most grateful for such a kind thought and for the birthday greetings that went with it. Together with my thanks I send you my warmest good wishes. Charles
Written on Original Turkey Mill Kent paper. Has Prince of Wales feathers crest in red. Remember, this is from the FUTURE KING OF ENGLAND.
A rare historical piece.
All questions answered via email No returns All sales final
FREE SHIPPING IN US ONLY. WILL BE SHIPPED INSURED WITH SIGNATURE REQUIRED.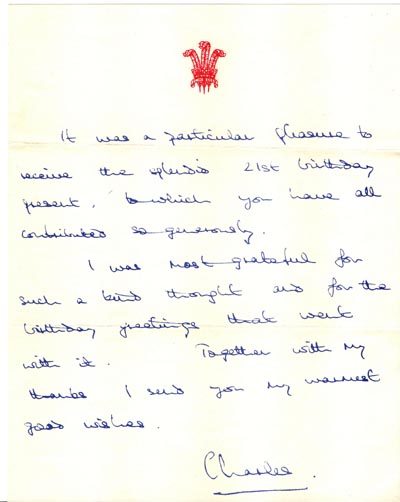 $1,800.00 plus postage
________________________________________________________________________________________________________
Signed Photo of HRH Princess Anne
SOLD - A 29 year old official black and white 3 1/2" X 4"photo of HRH Princess Anne, daughter of Queen Elizabeth II, sister to HRH Prince Charles. In blue leather frame. Signed and dated 1987. $2,800.00 plus postage SOLD

________________________________________________________________________________________________________________________________________
Hand Written Princess Diana Letter
Item 3004- SOLD This 35 year old letter is an incredible piece of history from the most famous woman of all time. Diana has written candidly about her honeymoon. This double sided, one page letter is one of the rarest in my collection. Dated August 28, 1981, written on official stationary to Betty Andrews who worked for the Spencer family from 1945-1981. It comes with the original, hand written, postmarked envelope. She writes , "We had a wonderful honeymoon, catching up on all that lack of sleep & just being together made everything so wonderful." It is signed, "Take great care & much love, Diana". $22,000.00 SOLD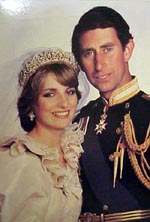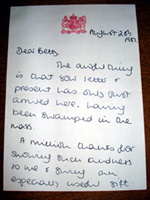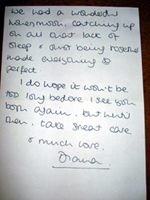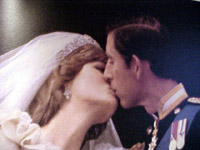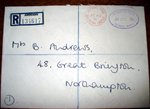 _____________________________________________________________________________________________________________________________________
Hand Written Princess Diana Letter
SOLD This letter 32 year old latter dated September 20, 1984 to Betty Andrews written on official Kensington Palace stationary is touching as Diana speaks of the birth of her second child Harry. She so dearly loved her boys. It comes with the original, hand written, postmarked envelope. She writes, "William adores his little brother & spends the entire time pouring an endless supply of hugs & kisses onto Harry & we are hardly allowed near." It is signed, "With much love, Diana" $25,000.00 SOLD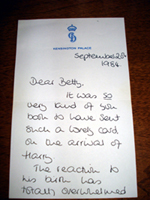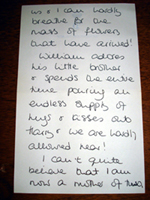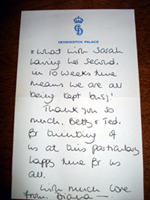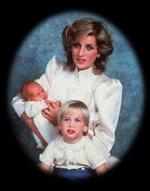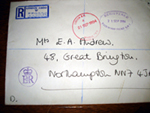 ________________________________________________________________________________________________________________________
LIMOGES INK WELL & QUILL GIVEN BY PRINCESS DIANA AS A GIFT
SOLD Item 3006 - This Limoges ink well with feather quill was given by Princess Diana as a Christmas gift. There is ink staining on the inside of the inkwell showing it had been used. It is in excellent condition as is the feather quill. It is so touching for me to handle these things and know they had once either been Diana's or she had elected them herself as gifts. $10,500.00 SOLD
Dearest ________
Happy Christmas
Love, Diane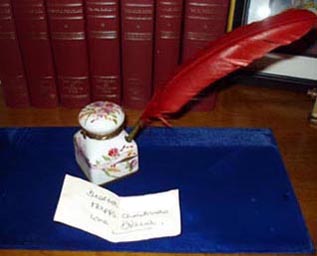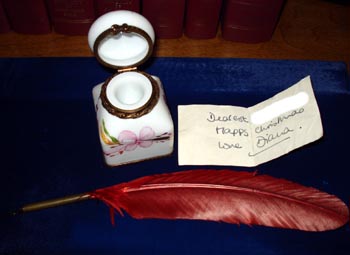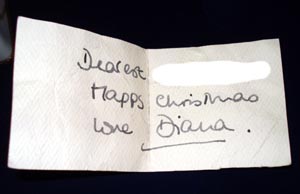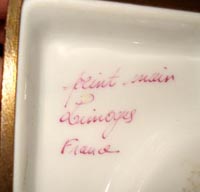 _________________________________________________________________________________________________________________________________
SAD LETTER FROM DIANA, PRINCESS OF WALES SPEAKING OF HER FATHER
SOLD Another rare letter from the late Princess Diana speaking on the death of her beloved father. This double sided one page letter , written on Diana's private, official Kensington Palace, red bordered stationary with her initial D to a friend is dated April 1, 1992. Diana writes, " I miss my father dreadfully as he was such a strong & positive force in our lives." It is signed, "With my love to you both, from Diana". This letter comes with the original, hand written, postmarked envelope. $12,000.00 SOLD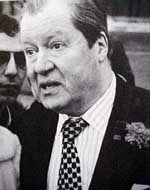 The royal family are now trying to erase Diana's memory from history. That will not happen. Camilla Parker Bowles will not be a replacement for Diana!
---
HANDWRITTEN 1936 MEMO FROM QUEEN MARY
Item 3008 - This 80 year old, black bordered official memorandum dated April 8, 1936 from Buckingham Palace was written by Queen Mary. King George V has died on January 20, 1936 a mere three month earlier, thus all Queen Mary's correspondence was on black bordered stationary. It is a thank you for a gift of a book and states she is looking forward to receiving the second volume. She writes,
I am most grateful to you for the interesting little book (vol II) & hope you will send me
vol III when it appears.
At the top of the memorandum it says, from "Queen Mary." -Written in her hand as is the date .This memorandum is 80 years old. It's amazing it has remained in tact all these years. This memorandum is printed on official royal mill paper. $2,000.00 plus postage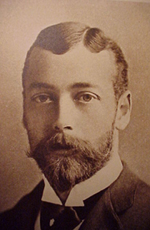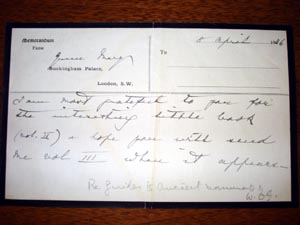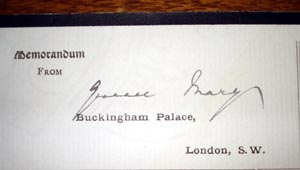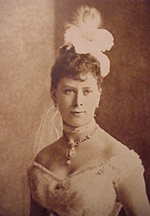 ---
SOLD LETTER FROM PRINCE CHARLES TO GIRLFRIEND JANET JENKINS SPEAKING OF HIS DESPERATION TO FIND A WIFE AND COMPLAINING ABOUT ROYAL DUTIES
This letter dated June 8, 1980 was written a mere 8 months before Charles proposed to Diana on February 6, 1981 with a wedding to follow on July 29th, 1981, just short of six months. The pressure for Charles to find a "bride" and to marry ruined so many lives.
Item 3009 - This 36 year old next letter from HRH Prince Charles shows, he was under great pressure in 1980 to find a wife and get married and it seems whomever his family found would be suitable. In this seven page letter written on official Windsor Castle paper dated June 8, 1980, Charles writes to a girlfriend Janet Jenkins from Montreal, Canada who in a live interview stated' "Diana said there were three in her marriage, actually, there were four. Everyone was cheating on everyone"!
Dearest Janet,
I fear this is somewhat belated, but it still comes with affectionate birthday greetings
and in the hope that you will forgive me for being unable to find a suitable card!
This time of year is unbearable from the point of view of everything happening at once
and - the most hectic- I seem to have another slate of annoying speeches in the last month
or two and so I apologize for appearing to be thoroughly useless over remembering your
natal day. I told you long ago I wasn't a very helpful person to know!
It was splendid to hear you on the telephone, but sad to miss you while I was in Canada
My new private secretary is horrified by the idea of ladies in hotels during foreign tours,
so, even if you had been in Canada and able to come to Vancouver, I dare say I would
have had a frightful struggle! I can see that I shall just have to get married as soon as
possible and then all these people might relax a little..
I do hope you have recovered from the traumatic business of marriage & divorce in
such a short time. Thank goodness you discovered the mistake early enough and didn't
start a family.
Starting a family & making a mistake like that is frankly, something which concerns
me enormously and I think my solution of marrying a girl from each commonwealth
county is the best one!
Don't worry- whatever happens I will make sure you are given early warning----
Let me know if you are ever coming back over this way and do take care of yourself - an
don't do anything rash!
With much love and many happy returns of that special day,
from Charles
This letter from a man who, within a year, we are to believe, found, fell in love with and became engaged to the woman he would spend the rest of his life with? Really! Diana was like a lamb unknowingly being led to slaughter in 1980.
This letter comes with the original, hand written, postmarked envelope. $10,000.00 SOLD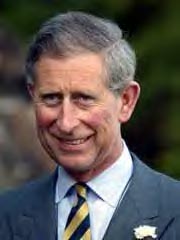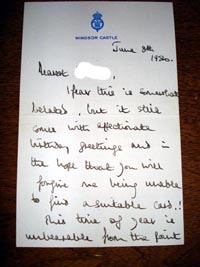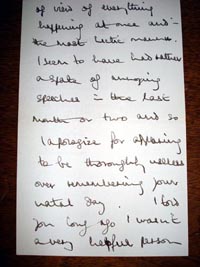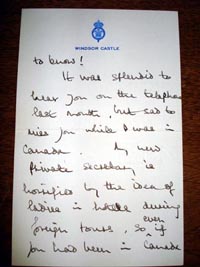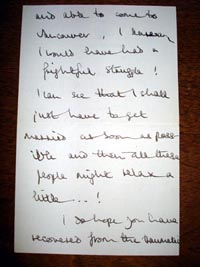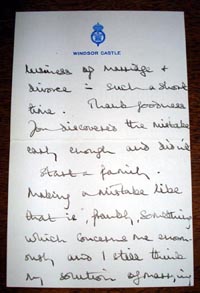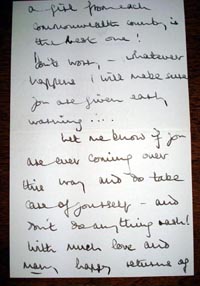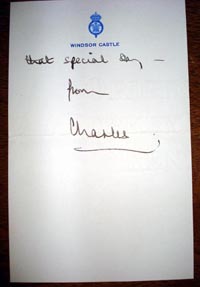 ---
LETTER FROM DIANA, PRINCESS OF WALES WRITTEN DURING HER FIRST PREGNANCY
SOLD This 35 year old letter dated November 10, 1981 was written to a friend of Diana's during the early months of her pregnancy with Prince William. She writes, "I don't like complaining but it's not that great at the moment". She continues later in this three page letter, "Hubby is going around on a cloud saying how marvelous & clever he is - I spend a lot of time reminding him that I'm the one carrying it!- but it doesn't seem to make any difference.- sigh! It is signed ," Very much love from Diana."
It is sad to think of this young, beautiful, vibrant girl leading such an unhappy life when things could and should have ended so differently. I often wonder what Prince Charles thinks when he hears, reads about or sees Diana on TV which is inescapable since a day doesn't go by in either England or the US with out the mention of her name. $22,000.00 SOLD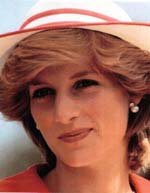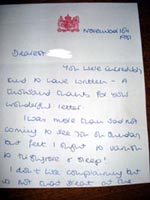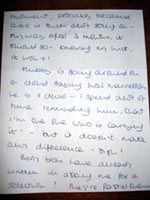 ---
BRACELET ONCE OWNED BY PRINCESS DIANA, GIVEN AS A GIFT
SOLD You are looking at a rare piece of history. This bracelet belonged the most famous women of all time. Imagine owning and wearing a piece of jewelry once belonging to Princess Diana. As we all know, Diana loved children. One of her favorites was a member of her wedding party. Diana loved this little girl and stayed friends with her until her untimely death in 1997. After many of her visits to Highgrove where she played dress up with Diana's basket of enamel and cloisonne bracelets, Diana would send her a bracelet with a note card. Diana had a collection of enameled bracelets she wore all through her teenage years. This was Diana's bracelet. $20,000.00 SOLD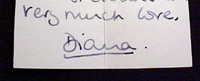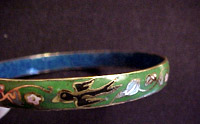 _________________________________________________________________________________________________________________________________
A LOVELY LETTER FROM PRINCESS DIANA
SOLD - This 35 year old hand written letter from Princess Diana is dated December 8, 1981. It is on official royal stationary.
Dearest ____
What a lovely letter you wrote to me- Thank you very much for writing. I wondered why
I hadn't heard for you for a while.
School must be nearly finished & Christmas is in sight - What have you asked for?
(Can;t read) came and had lunch here as your father was racing. She was very well as I
hadn't seen her for ages. It was lovely to see her.
I am sorry to hear about your eye and hope by now, they are better. I am afraid school
tends to be like that & definitely take no notice of Sandi. She doesn't sound very grown
up.
Hope to see you soon. Until then take care & very much love,
Diana
$17,500.00 Order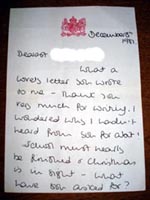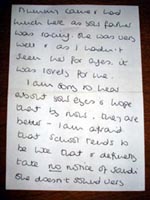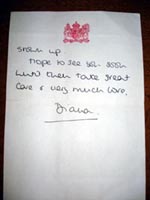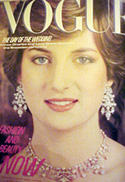 ________________________________________________________________________________________________________________________________
Everything Royal Correspondence Page 3
Everything Royal Home Page
Order Form