Magnificent RARE Diana triple face portrait by John Merton.

John Merton, who died on February 16 aged 97, was one of the most prolific portrait painters
of the last century, and enjoyed a reputation for depicting sitters at their best.
This portrait attracted widespread interest when it was shown in 1987,

is undoubtedly the most beautiful woman I have ever painted," Merton said.
The Princess, wearing a tight-fitting yellow dress, gave the artist five sittings ,
one at Kensington Palace and four more at his studio near Marlborough in Wiltshire.
Merton worked on the picture for around 1,000 hours.

The painting was hung in Cardiff City Hall, and in 2005 was temporarily,
and controversially, removed from the wall hours before the Prince of Wales
arrived on an official visit with the Duchess of Cornwall.

This is my favorite poster
Please allow 1-2week for delivery. I'll ship as quickly as possible.
US buyers only.

Printed on fine German canvas
The print is 24" X 24".

The three portraits are in an oval surrounded by what looks like a gold frame.
It can be framed without matt due to gold motif frame surrounding the portrait.
This poster is scarce. If and when it does appear, it is offered at $800.00 to $1,200.00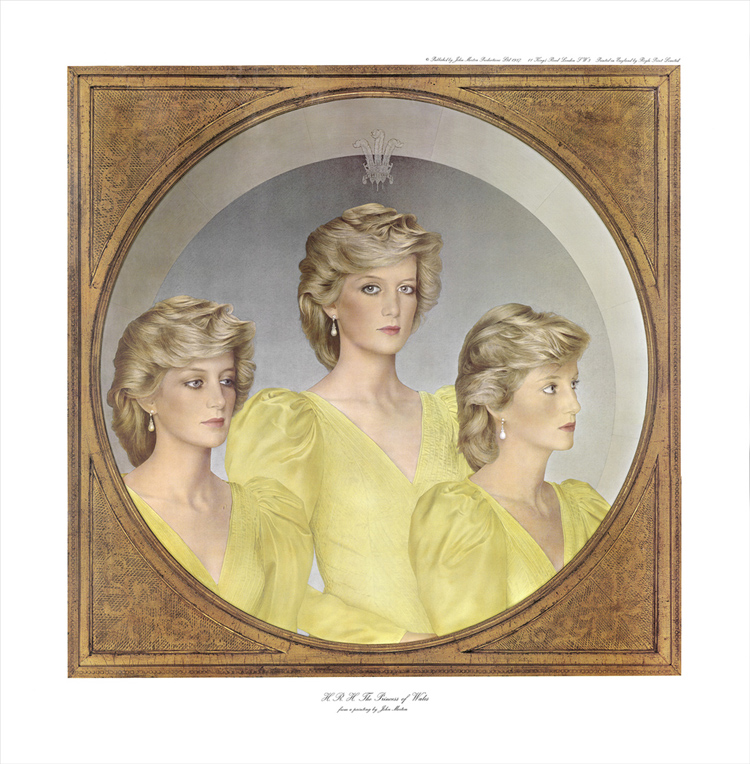 $1395.00 plus $10.00 postage
Everything Royal Home Page