Commemoratives Page 24
To pay by PAYPAL, click Paypal button
Sign in - send payment with item number or description-Send payment to- royaltyac@aol.com
Diana, Princess of Wales Commemorative Plates and Figurines
also"Prince Charles-Prince William & Prince Harry
---
Wedgwood Wedding Plate
Item 5111-5587
$49.95 plus postage
A 10" plate from Wedgwood.
The reverse reads, "In celebration of the wedding of H.R.H.
The Prince of Wales and Lady Diana Spencer
St. Paul's Cathedral 29th July 1981.
---
Four piece luncheon set
Item 5104-5588
Set of 4- $79.95 plus postage
A nice set of four 6 1/4" lunch plates from AJL Giftware- British Imports.
This is part of their Royal Family Series.
The same photo is on all four plates.

---
Charles & Diana wedding plate
Item 5191-5589
$14.99 plus postage
10" plate for the Wedding of Charles & Diana from Queen Anne.
Center oval portraits in b&w w/blue ribbon
commemoration below & red dragon above, gold rim.
---
Princess Diana Figurine
SOLD
$199.00 plus postage Order
Princess Diana Coalport figurine: "Travolta dress."

Coalport figurine #2232 of 9500 -- Perfect condition. No faults or flaws of any kind. Diana is wearing the gown that she made famous when she danced with John Travolta at the White House during her first royal tour to the US in 1985. Diana wore it with her signature pearl, sapphire and diamond choker. The sapphire was a wedding gift to the Princess from the Queen Mother.

This dress was Lot 79 (out of 80) from the Christie's auction of Diana's dresses in June 1997. The auction was held in New York, just two months before Diana was killed in a car crash in Paris. The gown was designed by Victor Edelstein and is made of ink blue -- almost black -- velvet. It reached the highest sale price of all of the dresses: $222,500. The auction (including the sale of catalogs) raised $5.76M dollars for Diana's favorite charities.
---
RARE Princess Diana Caverswall 21st Birthday Plate
$295.00 plus postage
Limited Edition of 1000. I have plate 313
10 3/4 inch plate rimmed in 22K gold to Commemorate the 21st Birthday of HRH The Princess of Wales.
Limited Edition of 1000. The image of Princess Diana is taken from an original painting by John Ball.
Pastel floral border is painted with shades of pink, green, aqua, lavender and green.
The Prince-of-Wales feathers and coronet decorate the very top of the plate.
The inscription around the outer border reads:
TO COMMEMORATE ON THE FIRST DAY OF THE MONTH OF JULY 1982
THE TWENTY FIRST BIRTHDAY OF HER ROYAL HIGHNESS THE PRINCESS OF WALES
---
To Commemorate The Life of Diana
Item 5592
$19.99 plus postage
10" plate 1961-1997
Plate No 1 No makers mark
Second plate -8" from Allyn Nelson

---
Small Wedgwood Princess Diana Plate
SOLD
$15.99 plus postage SOLD
---
Charles and Diana Wedding Plate
Item 5594
$79.99 plus postage
Limited Edition Princess Diana & Prince Charles 1981 Royal Wedding Plate. 8 inch
The center of the plate is a wedding day portrait of the Prince and new Princess of Wales.
The plate is rimmed with a band of 22K gold.
The photograph is ringed with a garland of flowers which represent England, Scotland, Ireland and Wales.
There are seven small sepia portraits of the bridesmaids and attendants around the outside of the plate.
The Union Jack, Royal Standard and Prince of Wales badge are at the top of the plate.
Beneath them is a ribbon which is inscribed: HRH Prince Charles Lady Diana Spencer 29th July 1981.
Limited Edition of 5000.
---
Princess Diana Tribute plate from the Bradford Exchange
Item 5595
$23.95 plus postage
8" Princess Diana Tribute plate from the Bradford Exchange (1997)
Produced for the Diana, Princess of Wales Memorial fund.
The photo of Diana is from a November, 1987 state visit to Germany.
Plate number 5774F
It is one of the prettiest Diana plates I have seen and is in excellent condition.
---
The Royal Wedding Plate from Fleetwood
Item 5596
$29.99 plus postage
Limited Edition of 9500 featuring an originals design by British artist Jeffrey Matthews.
24-karat gold and cobalt blue on porcelain exclusively for Fleetwood by Woodmere Studio China.
This is a First Edition and will never be re-issued.
Plates 9227 - 7867- 6572 and 6404.
Never displayed. In original boxes.
Original Certificates of Authenticity
---
Princess of Wales and her sons Prince William and Harry.
"Her legend lives on reflected by the English Rose."
Item 5597
$79.99 plus postage
RARE Limited edition 8" commemorative plate -- Made in Canada: by Peter Robson.
Rimmed in 22K gold. Diana, William and Harry are relaxing beside a pond. Reverse reads:
An enduring tribute by internationally renowned artist Peter Robson to Diana,
Plate 2502
---
Coalport plate for the wedding of Charles & Diana in 1981.
Item 5598
$29.99 plus postage
An 11" plate.
Their color pictures are in the center of the plate in ovals.
The entire plate is colorful flowers and vines.
Their names and the wedding date run around the inside part of the plate.
---
England's Rose
Item 5599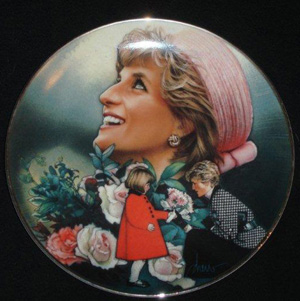 $29.99 plus postage
The Franklin Mint Heirloom Diana, Princess of Wales. Limited Edition.
I have plate numbers HA8572 and RA2367

---
Princess Diana Tribute Plate
Item 5600
$29.99 plus postage
9" oval Princess Diana plate by the Bradford Exchange:
A black and white portrait of Princess Diana is on a dusty mauve background.
The plate is rimmed with platinum.
The photo is a famous portrait by the photographer Terence Donovan.
This is the photo that was on the September 15, 1997 issue of People Magazine --
their tribute to Diana after she died.
A single rose and "Diana, Princess of Wales" is painted at the bottom of the plate.
I have plates 1867E - 330A and 9712A
---
Diana's Island
Item 5601
$49.99 plus postage
6 - 1/2" plate from D. John Wood. Titled Diana's Island
---
RARE Princess Diana "Loss of Royal Title" plate
$195.00 plus postage
Porcelain 8" plate by Peter Jones China of Wakefield for Goss.
Limited Edition of 2,500.
Central photo of Diana at the gala dinner where she received the
Humanitarian of the Year award from United Cerebral Palsy in 1995.
The photo is ringed with an elaborate border of pink and yellow flowers.
At the top of the plate, two large yellow daffodils are on each side of a large "D"
with a jeweled coronet above. In the border, near the rim, there are scallop shells.
The entire rim of the plate is scalloped (instead of smooth) and is edged with a generous band of gold.

---
Princess Diana Figurine
SOLD
$199.00 plus postage
Princess Diana Royal Worcester Figurine

This figurine of Princess Diana was released by Royal Worcester in 2007 to commemorate the life of the Princess.
Perfect condition with no flaws or faults. Described as fuchsia but looking more red in photographs, this gown by Victor Edelstein was Lot 30 of the Christie's auction of Princess Diana's dresses.
Diana wore it on no fewer than eight public occasions from 1989 - 1992 (including the premiere of Just like a Woman in 1992.) She occasionally wore it with a diamond brooch at the "V" of the bodice.
The figurine portrays Diana wearing the gown with matching shoes and carrying a evening clutch -- also dyed to match. A very pretty figurine.
---
Commemoratives 25
Order Form
Everything Royal Home Page